Customer Testimonials
Testimonials from some Satisfied Customers & Experts
---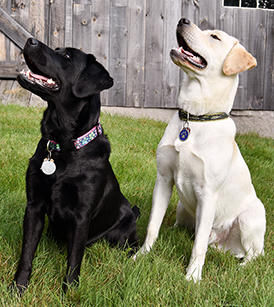 "Ernie installed an invisible fence for our two labs in 2010 and it has worked wonders. I had poor experiences with the cheaper, DIY dog fences in years past so I was skeptical. But Ernie assured me the Dogwatch fences were far superior and durable and with a lifetime guarantee on the hardware, I felt it was a good investment. Plus, he helped us train our dogs to get used to the fence. It's worked great. 8 years later we have called Ernie to help fix the wire when we broke it by accident, replace collars when our new puppy ate them and every time Ernie has been quick to get back to me and provided just as good service 8 years later as he did then. You can't go wrong with Ernie Roy and Dogwatch."
---
"We have worked with Ernie and DogWatch for many years. Ernie installed our first fence over five years ago, he arrived on time, was super informative about he fence, showed me how to train the dogs to respect the fence with out hurting the dogs (very important to me). When the fence broke after a plowing incident, Ernie came back to fix the fence , and this year we decided to make the area much larger for our dogs to roam. I had no idea what the best way to configure the fence would be, Ernie walked me through where to put the fence and why it would make the dogs life easier to get around in. Ernie remembered that I had horses on the previous visits and was very sympathetic when I informed him that they had passed due to old age, it was nice that he remembered information about our family. I would never work with anyone else to make sure our dogs are safe, happy, active and healthy. Thank you Ernie!!!! "
---
"After 19 years, our Dogwatch collar apparently died. We needed to get the system up and running right away. I got in touch with Ernie Roy, and he immediately coordinated with the Dogwatch company to honor our warranty (after 19 years!!!!). Our old system was an AM radio based system, which Dogwatch long ago improved upon by moving to a digital FM based system. The day I called Ernie, he arranged the replacement of our equipment, so by 8:30 that night I had my system back on line - actually, it was our new and state-of-the-art system. (Warranty terms are even better now than they were in 1995 - we paid a nominal fee for the replacement parts). When we originally put the system in I recall that we paid more for the system than some of the competitive offerings, but it was clearly the best system we could get. I now can tell you that we made a great choice; we have gotten tremendous value from it, both in system quality and a great service experience. You don't regret buying the best. Thanks Ernie."
Steve, New London NH
---
"These are the top 3 reasons we chose Dog Watch of New Hampshire.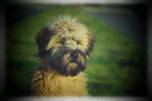 "When we decided on an underground fence we took three different name brands and had them show us their product. DogWatch was not the most expensive nor was it he cheapest. The lowest priced one was soon eliminated from the list. DogWatch and the more expensive competitor were neck and neck with the quality of their product.
What sold us on DogWatch was Ernie Roy. He assured us that he would do whatever it took to make us comfortable with the system. Ernie installed our system and explained everything in great detail. He then helped us through a couple of troubled times with timely and informative answers. Who would have known that you had to put one finger on both metal prongs to test the strength of the electrical charge for yourself, or what you had to do to fix a broken wire that you had dug up while planting a tree that your husband told you not to?
Anyone can sell a product. It takes DogWatch to stand behind theirs.

Thank you Dog Watch and Ernie for 8 years of peace of mind."

Sincerely,
Richard and Karen Raye Adams and Elliot, Erin & Bogart
---

"Hi,
I just want to say, my dogs have been on the hidden fence system from Dog Watch since June of 2000. I had a black lab that would get loose and run to the neighbors and jump in their above ground pool, so before she drowned or did damage to their pool, I had to do something to contain her in her yard. So, I asked around and found out about hidden fencing. We had Ernie come out and explain it to us and had it installed in about half of our yard. About a year later, we had him come back and extend it around the whole yard. When we got our little yellow lab, Ernie came out and put her on the system for us. She is 7 now. We have not had a bit of touble with our fence system-even with all the snow we had this year (2008). It was one of the best investments we have made for our pets. We know where they are when they are outside. We know they are not going to run out in the road and get hit by a passing vechicle. Whenever we have had a question, all we had to do was call and he got right back to us. We also bought a small system for in the house to train the dogs to stay out of the cat food. It is also handy if your painting a room and need to set a barrier for the dogs. I would recommend this system for anyone who has a dog no matter what size they are. We have a new little guy who will be going on the system in a couple of months. I could let my yellow lab out now without a collar and she would not leave the yard. I actually have to put her in my car and drive her out to take her for a walk. She will walk back in, but won't go out. My black lab would go out on leash with me and back in, but only in one area. Off leash, she would not leave the yard. It has been quite a comfort to us to know they are in their yard when outside."

Rosalie Philibert, Franklin, NH
---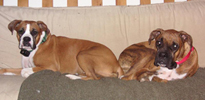 "I have two very active (and cute!) Boxers. They need lots of exercise and love to run and play. Before I discovered the Dogwatch Hidden Fence System I was constantly trying to balance giving them enough exercise and keeping them safe. They would run in the road, stalk the neighbor's cat, and eat the vegetables out of my garden. Since I had the fence installed life has been so much easier. They have the freedom to run and play as much as they want and I have the peace of mind knowing they will stay safely in our own yard. Ernie provides prompt and friendly service whenever it's needed. I am very happy with the Dogwatch system, but more importantly my dogs are happy and healthy!"
Darlene Avery, Bristol, NH
---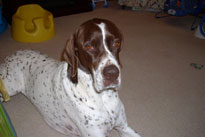 "When we moved to Gilford, NH, four years ago, we had no idea what we were going to do about our extremely active and curious English Pointer, Marley. Being a hunting dog by nature (albeit a domesticated one), Marley loves to run around outside for hours, and the more land she sees before her, the more likely it is that she will explore it until it ends. Since our property has just over an acre of open land but spreads out into hundreds of acres, she sniffed her way out of our property for weeks. We lost her more than a dozen times --somewhere in adjacent neighborhoods-- until we found Ernie Roy and DogWatch. The moment we began working with Ernie, DogWatch has helped us control our dog and contain her on our property with ease and relief. Marley definitely knows her boundaries now, and we never worry about her exploring (that is, running off) anymore. And working with Ernie is just as easy as DogWatch is! Not only is he very personable and friendly, he is also very prompt and efficient, immediately getting back to us with a smile whenever we need anything. DogWatch has given us confidence in Marley, and Ernie has made it a sheer pleasure."