About DogWatch Hidden Fences
We work so dogs can play . . .
At DogWatch, we understand that your pet is an important part of your family. With our indoor and outdoor pet fence systems, you can have confidence and peace of mind about the safety of your dog or cat. Our Hidden Fences are the most advanced and safest pet containment systems available.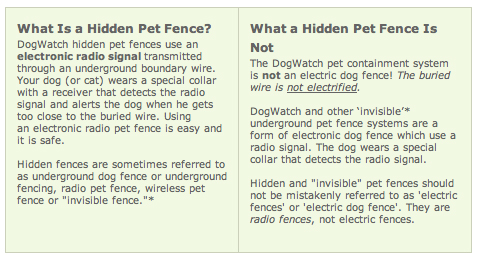 How the Hidden Fence Works To Keep Your Pet Safe
Through an easy training process, your pet learns to identify and stay within your pet containment area. He learns to respond to an audible signal (a beep that comes from his collar). If he continues to go beyond the audible signal, he receives a mild correction transmitted through the receiver collar. Most dogs learn easily and quickly to respond to the audible warning signal when they get too close to the hidden fence.
DogWatch Hidden Fences are safe for your pet and they are effective at keeping pet safe. Veterinarians, pet professionals and pet trainers all over the world own and recommend DogWatch Hidden Fence pet containment systems.
Whatever your pet containment needs are, a DogWatch Hidden Fence is the best way to give your pet the freedom he deserves while keeping him safe.